"My name is Illyasviel von Einzburn, but you can call me Illya."
Full Name: Illyasviel von Einzbern
​Nickname: Illya
​Age: 18 (Appears 10-13)
​​Species: Human/Homunculus Hybrid
Height: 133cm (4 foot 3 inches)
Weight: 29kg (64lbs)
Background: 
The Einzbern, one of three families of sorcerers involved in the Holy Grail War, were responsible for creation of the vessel which the souls of the defeated Servants would go into. As such, Illya was prepared by her family to act as a living vessel for the Grail.
She was brought to Fuyuki from the Einzbern castle and raised as a normal child along with her adopted brother. She had a normal life for ten years without any knowledge of her background, and had no idea about her parents' activities. Due to Illya being created for the use in the Holy Grail War when Illya comes into contact with a Class Card for a servant then she is able to fully take on the skills and abilities of said servant. After touching a Class card once Illya absorbs the card and stores it in a magic centre of her mind, making it possible for Illya to access the skills of a hero without activating the card.
Once a card activates the prana inside Illya's body reacts making a costume of the hero appear on her body, once the cards effect is undone Illya will return to the clothes she wore before the change.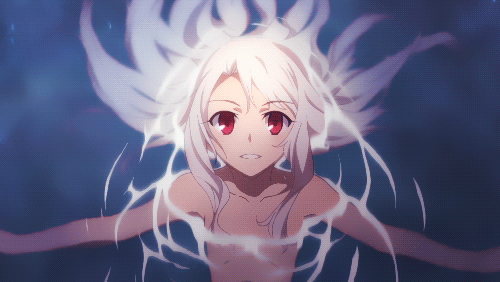 Illya's Abilities:
Illya has unsurpassed potential as a Master amongst all Masters past and present. 70% of her body is composed of Magic Circuits, showing themselves as a red pattern all over her body when she generates magical energy. Similar to the wire construct wielded by her mother, she is able to make a familiar from her hair.
The name of the technique is Engel Note: Angel's Poem The bird's name is Storch Ritter: Knight of Stork. The Ibis that shoots bullets is Zelle (German for "tears"), and she can also transform them into a Degen (German for "sword"). They are autonomous beings that defend her and pursue targets automatically, fast enough to dodge average attacks, and shown to be able to fire small blasts of magical energy capable of easily shooting through weak magical barriers.
Heroic Spirit Embodiment, through the use of class cards Illya is able to fully take on the skills of a heroic spirit. After a card is used Illya absorbs it into her magic circuits to reuse without having a physical copy of the card to be stolen or lost, the degree of embodiment starts at simply using low classed abilities of the heroic spirit moving onto full embodiment that transforms her clothing to match those of the heroic spirit she chooses to embody.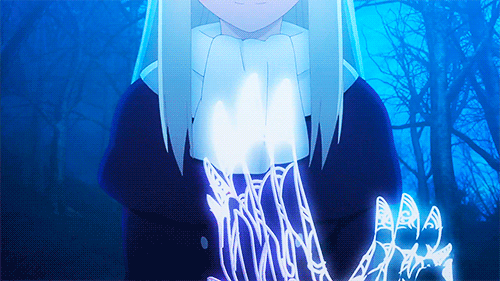 Class Cards: 
Saber: Artoria Pendragon, Altera.
Lancer: Brynhildr, Cú Chulainn.
Archer: "Nameless", Gilgamesh.
Rider: Medusa, Queen Medb, Marie Antoinette.
Caster: Medea, Tamamo no Mae, Merlin.
Assassin: Hassan-i-Sabbah, Shuten Douji, Jack the Ripper.
Berserker: Heracles.