Hamlet is taken by moods of extreme melancholy, punctuated by moments of cheerfulness. He may have some kind of mental disorder, possibly bipolar, due to his quickly changing moods. He often speaks cryptically, and references his past.
Hamlet is, however, fiercely protective of people, and can be very kind. He feels injustices very strongly, and will fight strongly for what he feels to be right.
In Denmark, he was used to his antics being tolerated, and used to being the one to control a conversation. He is still not used to being considerably less important among the various mortals and immortals he meets in the inn. For example, he's used to make side comments to himself. Here, he finds doing this difficult without offending
someone.
Hamlet knows that he is from a story, and has read his play. He can sense when people quote other Shakespeare plays at him. The back of his neck prickles, like when someone stares you when you have your back turned.
Despite Hamlet's often listless and distressed moments, he is happier the longer he stays in Persistence, and the longer he stays awake.

Hamlet's nights are tormented. He dreams of the deaths of his father, of Ophelia. He dreams of his own fate. He dreams of what will happen to his father in the afterlife if he doesn't manage to avenge him. He dreams of what will happen to him if he does.
He considers himself insane, and is sometimes correct.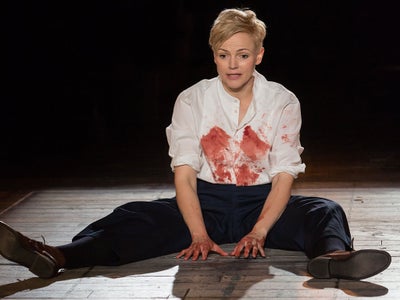 Hamlet arrived at Persistence angry, bitter, and depressed. After some time there, he's become slightly more spirited, mostly due to those he's met in the inn. Hamlet considers Persistence like another home to him. If he sees anyone in trouble or hurt in the inn, he disregards any rules of keeping to himself, and will spring forward to defend anyone here, who he now considers family and countrymen.
Hamlet has recently gone to Denmark to avenge his father, and died in the process. Upon his death, Dream gave him the chance to return to a kind of life in a dream form. As a dream, Hamlet is still substantial. He can walk in others dreams, and he cannot be killed, though he can be injured.
Hamlet now lives in the Dream World, but makes frequent visits to the waking one and to Persistence.
After the death of his uncle and, subsequently, himself, Hamlet is considerably more cheerful. He no longer considers himself 'Hamlet of Denmark', though he keeps his Danish accent. Instead, he refers to himself as 'Hamlet, prince of Dreams'.
Despite the fact that he cannot be killed, Hamlet hangs on to his paranoia, and still finds it difficult to completely trust people.
Although usually more cheerful now, Hamlet has bouts of depression, and very often has suicidal thoughts. He whispers the phrase "to be or not to be" to himself, and wonders what would happen if he chose the latter option. He does not often speak of this, although that soliloquy is almost constantly running through his head.
Some specific characters have shaped Hamlet the most. They are as follows.
Dream
Hamlet met the Morpheus incarnation of Dream in the inn. After Hamlet's habit of making sarcastic commentary about people got him in some trouble with some of the immortal occupants of the inn, Morpheus stepped in to protect him. 
That version of Dream then died, shortly after telling Hamlet he loved him like a son. Hamlet wept, for the first time since his father had died. Dream was then replaced with a different version. Hamlet loves him like a father, and occasionally calls him by that title. It's rare for Hamlet to find someone who he feels the need to help emotionally, and Dream is one of those people.
Hamlet also has found that Dream's emotional state seems to affect his dreams. When Dream is sullen, Hamlet's nightmares get worse. 
Upon Hamlet's death, Dream brought him back as a dream, similar to how Dream creates nightmares like the Corinthian. Hamlet now lives in the Dreaming with him, as his son. Dream appears to be fiercely protective of him, and Hamlet does not quite appreciate this as much as he should.
The red stone that Hamlet wears around his neck serves as a link to the Dreaming, and to Dream himself. He used to have a dark blue one, but it was shattered after an argument they had. They argue, unfortunately, quite a lot.
Despite that, Dream is the first friend Hamlet made in the inn, and his closest.
The Endless
The rest of the Endless, besides Dream, are Hamlet's aunts and uncles. They are as follows: Destiny, Death, Destruction, Despair, Desire, and Delirium. 
Desire , an androgynous figure who is neither male nor female, has been the cruellest to Hamlet, wounding him and Dream on occasion. But recently, they seem to be attempting to make amends. At the least, they're not threatening him anymore.
Death is Hamlet's favorite aunt, and for good reason, as she's the friendliest person he's ever met.
Delirium is strange, as her name implies, and Hamlet is wary of her, especially after his own brushes with insanity.
Dr. Stephen Strange
Hamlet and Dr. Strange first met during an event, where Strange fought alongside him and helped carry the exhausted mortal from the field of combat when the battle was over. He then gave Hamlet an old sword belonging to Hamlet's Nordic ancestors, which Hamlet was very flattered, happy, and proud to receive.
After Hamlet was attacked by one of Dream's nightmares, Dr. Strange attempted to help him. For that, Dream offered him a gift. Dr. Strange instead offered the gift to Hamlet, telling Dream to grant him powers of magic, so Hamlet will be better able to defend himself against supernatural attacks in the future.
Hamlet was at first incredibly reluctant, not trusting himself with these powers. Dr. Strange has proved a capable teacher, and Hamlet is now fairly excited by the prospect of learning magic. He can currently only perform small feats of magic, but is practicing hard to improve his limited skills.
Dr. Strange is, Hamlet thinks, one of the most generous men he's known.
Recently, Hamlet has joined Dr. Strange's group of Magi.
Valerie Natsu
First and foremost, Hamlet ships Valerie and Sloane, so loves Valerie just for that.
She's become more like a sister to him than anything. He cares very much about the shifter and although she hasn't yet made his list of those he trusts unconditionally, she is still one of his closest friends.
Joshua Wayne
Hamlet considers the werewolf a great friend, and like a brother. It's helped by the fact that Joshua seems to have fallen under Dream's protection as much as Hamlet has.
Matthew Murdock
The blind lawyer has for some time been one of Hamlet's favorite allies. He's more concerned about him than he is about his other friends--Matt is, after all, one of the few completely mortal men present--but has begun to be highly impressed by his powers. Hamlet is pleased by Matt's vigilantism--or, as he calls it, his "altruism" in protecting the people of New York.
Lately Hamlet has started to become...interested in romance, after being very long absent from it. Matt, after being forced to confess love for Hamlet by Hamlet's aunt-uncle Desire, is interesting to him, and Hamlet drops a lot of precautions around him--not even referring to him by an honorific or by his full name. He will gladly take Matt to visit him in the Dreaming, and seems to adore the affection and attention he gets. Matt's the first person who genuinely seems to love Hamlet's monologues. Some time ago, Matt gave Hamlet a ring with the inscription "love looks not with the eyes, but with the mind", which Hamlet always wears (on his right hand). 
Hamlet is slowly becoming more comfortable with the idea of romance, and will refer to Matt as his boyfriend (but never as his lover) in public. He still doesn't like most public affection.
Horatio
Hamlet's death has not been kind to Horatio. In Denmark, their friendship followed an easy pattern–Hamlet needed comfort and he needed to be able to trust someone, and Horatio was content to provide both.
Now, though, Hamlet has other friends to help him when he needs it. And Horatio, now acutely aware that he's not even real and has no existence outside of Hamlet and his play, has been spiraling downhill.
In order to continue seeing Hamlet, even in his dreams, Horatio takes laudanum to stay asleep. After all, the real world doesn't hold much worth waking up for anymore.
Those He Trusts

Hamlet trusts very few. It wouldn't be surprising if no one made it onto this list, but as it is, there are a few. Hamlet gives out his friendship and his love more easily than he gives out his trust, and if a character does not appear on here, it does not mean he dislikes them.
Horatio
Dream
Stephen Strange
Matthew Murdock
OOC
((Quick rules...
I'm still new to this! I won't say 'be patient' because I think I know what I'm doing well enough to respond in a timely manner. But, I guess, be prepared to correct any horrific mistakes I make.
If you want to roleplay with Hamlet through comments or inbox, or, hey, if you  talked with him in main and want me to make a Shakespearean blog post about Hamlet's encounter with your character, I'll be happy to.
One thing I will ask is that, if you want to comment roleplay, you send a starter. I'm very new to this and I've never rped anywhere but main before.  I probably could if you really don't want to? But I'd rather not.
I like paragraph style, no one-liners.
Don't assume you know Hamlet's personality because you've read the play. His actions can be interpreted in many different ways, and my interpretation likely differs from yours. In addition, he's now changed considerably since the events in the play.
I do not want myself, nor my character to be dragged into OOC drama. I will happily talk with you OOC. But neither me nor Hamlet–ironically enough–want to be a part of drama or conflict. OOC is not IC, and I aim to keep the two very separate in my life and in Hamlet's.
I will not give out my Skype or my Facebook. If you ask and I refuse, this does not mean I don't like you. It means I do not give out my Skype or my Facebook.
Hamlet's face claim is Maxine Peake.))