Geinim     Stilinski
Nicknames/Aliases/Titles: Stiles(Everyone - Preferred), Void-Stiles(Formerly), M. Stilinski, Hyperactive Spaz, Abominable Snowman, Stilinski(Nikita ONLY), Brother #2(Juliette), 

Aᴘʀɪʟ ₈ᴛʜ﹐ ₁₉₉₄﹣₉₅ | 21 (Differs By Roleplay)
Hυмαи - Pøššeššeđ вч Nøgıтšυиe(Føямeяłч)
○ M. Stilinski, better known as Stiles Stilinski, is the deuteragonist of Teen Wolf. He is the son of the Sheriff Stilinski and the late Claudia Stilinski, and is the best friend of Scott McCall. Stiles was first introduced as a curious, hyperactive, and sarcastic high school student whose decision to go out looking for a dead body in the woods led to him getting caught by his father, the Sheriff of Beacon County, and also led to his best friend Scott getting bitten by a werewolf. From then on, Stiles has continued getting involved in the supernatural world despite having no powers of his own, doing his best to support his best friend and their growing pack while protecting the town from supernatural influences.
Awĸwαrd
ᔕᗩᖇᑕᗩᔕTIᑕ
ĤƱMΛИ
○ Stiles' personality is most accurately described as anxious, hyperactive, and curious. He is a notorious bookworm who excels at piecing together clues and figuring out mysteries, such as the fact that Scott had become a Werewolf, the identity of the Kanima's first master, and the fact that a Dark Druid was behind the human sacrifices that were occurring in Beacon Hills. Since becoming aware of the supernatural world, Stiles' social and generalized anxiety has only become worse, especially after the death of his good friend Allison Argent, because he fears having to deal with the loss of any more of his friends or family as a result of their supernatural enemies. Because of this anxiety, Stiles can often become so overwhelmed by trauma that he both physically and verbally lashes out at anyone around him, whether they are friend or foe, as evidenced by Stiles tackling Scott after Sheriff was attacked by a Chimera, despite knowing that Scott, too, had been hurt at the same time.
Sкιηηу
PΛŁΞ
ƊιмρƖєѕ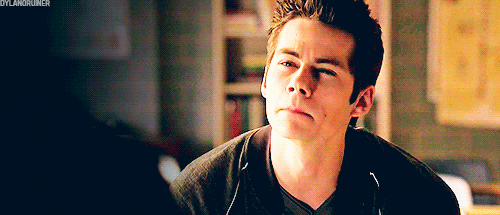 ○ Stiles is a lean young man of medium stature who has pale skin, brown hair and honey-brown eyes. He is known for having freckles all over his face, neck, and body, and his hair is usually gelled into a messy style. His choice in clothing leans toward pieces that are comfortable and casual, such as hoodies, flannel button-ups, baseball-style t-shirts, and slim-cut jeans with Vans sneakers. However, he has also been known for wearing active wear during lacrosse and cross-country seasons, such as Under Armour t-shirts and track pants with tennis shoes.
Pᴀᴄᴋ Sᴛᴀᴛᴜs﹕ Hᴜᴍᴀɴ ﹠ Bᴇsᴛ Fʀɪᴇɴᴅ Tᴏ Aʟᴘʜᴀ
ҨŪĩ¢Қ ŦɦĩהҚĩהɢ ɢ£הĩŪŞ
Ѕτυdεπτ - Ƥλςκ Μεϻϐεг - Σιςнεπ Hσυsε Ƥλτιεπτ(Fσгϻεгlψ)
○ Stiles is an ordinary human, but he possesses a keen detective mind and is very intuitive. Stiles often put his life on the line not only to save the people he cares about but to save strangers as well. Stiles doesn't have a gun or any training in combat but relies on his mind to come with plans, including contingencies in case the "Plan A" doesn't work. One particular object he does use for a weapon if anything is his trademark baseball bat; the first one he "borrowed" from Melissa McCall before smashing it against Ethan and Aiden's merged head, leading him to acquire a second aluminum baseball bat that he now continues to use.After ritually sacrificing himself to save his dad, Stiles left a mental door open that allowed him to be possessed by a Dark Kitsune spirit known as a Nogitsune. While possessed, he had caused numerous disasters and damage that killed many people and indirectly led to the death of Allison Argent. After being free of possession, he admitted to Malia Tate that a part of him enjoyed it due to the power and the feeling of being in control, though he maintains that control is overrated. Ever since, Stiles has dedicated himself to making up for the bad things he has done while possessed and has remained a valuable asset to the pack.
❝ Ἷ łὄvἔ ʛἷʀłṩ. Ἷ łὄvἔ 'ἔм. Ἷ łὄvἔ ἔṩῥἔƈἷᾄłłẏ ὄᾗἔṩ ᾧἷҭђ ṩҭʀᾄᾧвἔʀʀẏ вłὄᾗḋ ђᾄἷʀ, ʛʀἔἔᾗ ἔẏἔṩ, 5'3 ❞
Married(In Disneyland) to Nikita Hale-Stilinski
Interests: x01
Fᴀᴛʜᴇʀ Tᴏ 
Oliver Hale (Stilinski)
FΛMĪĿY: SĤƐŔĪFF SƬĪĿĪИSҠĪ(FΛƬĤƐŔ), ƇĿΛƱDĪΛ SƬĪĿĪИSҠĪ(M♡ƬĤƐŔ)
○ Stiles has had romantic feelings for several women throughout the course of the series. While his most enduring crush as been on Lydia Martin, he has also developed romantic feelings for Malia Tate, who was his first-ever girlfriend, and has briefly hooked up with Heather and Caitlin in the past as well. Though over the years things have changed and he's wound up feeling things for more than just Lydia, or Malia. 
Fun Facts about Stiles
○ Stiles plays on the Beacon Hills High School lacrosse team as #24.
○ Stiles has had romantic feelings for several women throughout the course of the series. While his most enduring crush as been on Lydia Martin, he has also developed romantic feelings for Malia Tate, who is his first-ever girlfriend, and has briefly hooked up with Heather and Caitlin in the past as well.
○ Stiles was the first of the main characters to be admitted to Eichen House, not including Malia Tate, who was not a main character at the time when she was revealed to be a patient there.
○ The emotional trauma of having watched his mother die has been a recurring issue for Stiles throughout the series.
○ Stiles has killed more people than anyone else in the McCall Pack, although all of them were either due to self-defense in a fight or while he was possessed by the Nogitsune.
○ Stiles' totem when performing the surrogate sacrifice ritual was his father's Sheriff badge, and Lydia acted as his emotional tether to bring him back to life afterward.
○ Stiles' use of a baseball bat as a weapon during supernatural battles has become a running joke throughout the series, though the bat originally belonged to Scott and Melissa McCall.
Equipment
○ Robin's Egg Blue 1980 CJ5 Jeep
○ Baseball Bat (Aluminum)
○ Supernatural Clue Board
○ MacBook Air Laptop
Skills & Abilities
○ Investigative/Law Enforcement Knowledge
○ Mythological Knowledge
○ Heightened Intelligence
○ Technological Knowledge
○ Pick-Pocketing/Theft
○ Brawling/Fighting
Weaknesses
○ Mortality
○ Kanima Venom
○ Anxiety/Paranoia
○ Side Effects of Resurrection
R Σ L Δ T I Θ N S H I P S
M A I N
Bešт Fяıeиđ
S c σ т т M c C α ʟ ʟ
ᙖᖇOTᕼᙓᖇ
○ Scott and Stiles' close, unwavering friendship is known to be the main relationship in the entire Teen Wolf series, and though the two have gone through rough patches in the time they've been friends, they always come through it and end up being stronger than ever. They have been best friends at least since early childhood, and have been said to be inseparable by their respective parents, teachers, and mutual friends alike.
ᴸʸᵈᶤᵃ ᴹᵃʳᵗᶤᶰ
Ɓαηѕнєє
Cгυsн τυгπεd Gσσd Fгιεπd
○ The relationship between Stiles and Lydia was incredibly one-sided at first, as Stiles had developed a crush on Lydia as early as the third grade, but Lydia, who was in a long-term relationship with Jackson Whittemore, didn't notice or acknowledge Stiles' existence until they were sophomores in high school. However, after Peter Hale killed Laura Hale to become an Alpha and subsequently gave the Bite to Stiles' best friend Scott McCall, the supernatural world began to affect the lives of Stiles, Lydia, and the rest of their friends, which caused them to start spending more time around each other.
The Hunter
Good Friend
Allison Argent
○ Stiles' and Allison's relationship was always a good one. They became close when Scott and her started dating. Their relationship was never rocky even after Scott and her split up and he still cares for her deeply. She is a good friend and will remain that way till the end. That will never change. 
Jackson Whittemore
Douche Jockey
Frenemy?
○ Stiles' and Jackson's relationship is a complicated one. From the beginning they never really got along. Jackson bullied him non stop but after Jackson became this killer Lizard hybrid Stiles and Scott went out to help him. After that they became somewhat friends though it's still very complicated.