Singularity:
A being, who's existence and power basis are "singular". There are no other variants, no other copies, and no ability to make either of those described. The being is….alone, sometimes lost. This one represents an anomaly…a break, a wound, a "void" in the sea of Mana and Magic which encompasses us all….
================================
"You should not exist"
–
Those words repeated in his head, over, and over, and over, plaguing the once at ease mind he held. Well, rather than stopping him from being "him", it rather made him…question being "himself". The beings words, they were so much like a threat to him, but more. More…deep. Meaningful. Like, a life lesson that you really don't want to hear. Like a robot finding out its existence is a lie, it never had "emotions", was never meant to be a Human like the rest.
–
Such happened to Kaler, not long ago, during an self-expedition along the island of Twine, casually the boy was minding his own business, in the depths of the Jungles along the length of the Island. All was calm, all was peaceful. That is, it was, until a sudden thrill shock wracked the ground around him. "What the-!" Before the boy could seemingly react to such a phenomenon, the ground suddenly caves in around him, as does reality itself…distortions on a cosmic scale, shattering and coiling, the fabric of reality and space simply 'bending' downwards, pulling him away from the plains of the Forest and into a bleak, space-like void.
–
"Ohf!" He exclaims with a grunt, landing not so gracefully on his behind, having fallen onto…nothing. There was virtually nothing to be seen. It was…dark, beyond dark. Bleak nothingness, in all directions. To his left; nothing. To his right; nothing. Up above; the remains of reality, slipping away it seems, curling up and over him and…whatever this place was. He felt scared, felt worried, naturally. "W-what the heck…w-what's going on?!" He called out to the void, expecting some sort of answer. Was he dreaming? He couldn't be…he was awake just now, he thought.
–
You…
–
"Huh?!" He turned his head to…somewhere, just anywhere. He could've sworn, he heard a raspy, but bellowing voice echoing around the expanse. "H-hey…w-who's there?!"
–
You…you Yo- You, you You …..YOU
–
Multiple voices, all angles, every curve, corner, space in this…hell. They spoke directly to the boy, his head turning left and right, trying to figure out where they came from. "S-stop it! Ngh…s-show yourselves, stop!" He was getting very worried, very tense, this didn't seem like your typical dip in a black void…if that was typical at all.
–
YOU
–
Suddenly, there was a flash of blinding light, accompanied by a vaguely irritating roaring shout from all angles, all directions, all physical and illogical degrees of measurement from all existing paths, before…something, showed itself to the boy. Something flashed into existence. "Something" was a right term for it, whatever it was. A dark being, yet lighter than the rest of the space. Draped in dark, flowing robes, hovering in the air, chains from their wrists, and dead-pale skin. They had no face, but carried a chilling voice.
–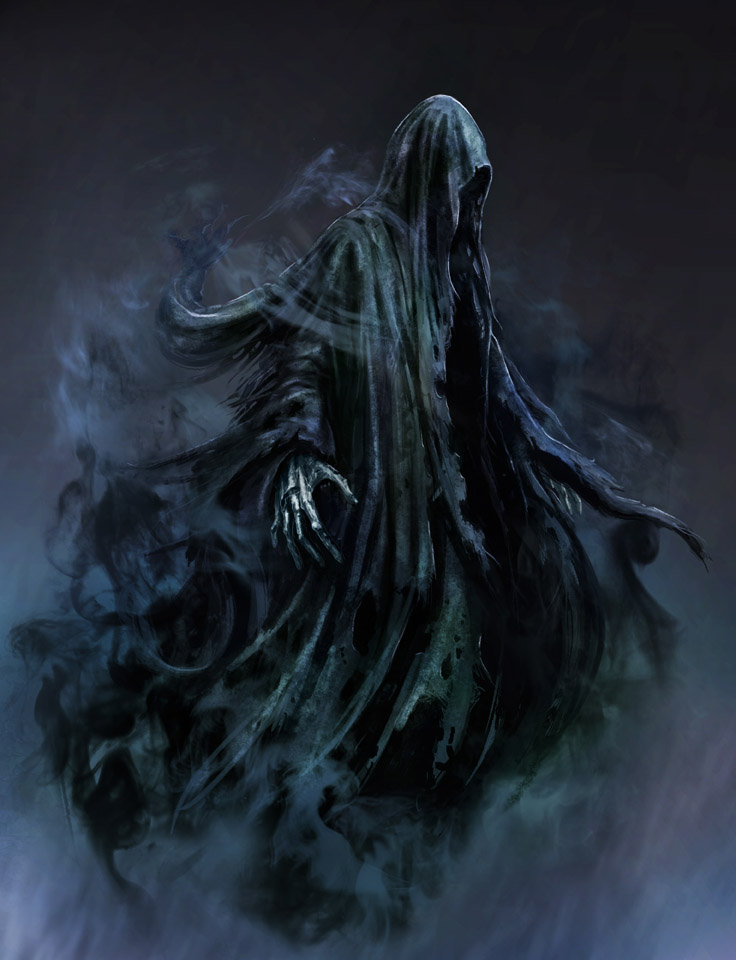 –
The boy was frozen. He looked around. Not one, two, but THREE of those…those things, hovering around him. Scared would be an understatement. "…w-what are you?!"
–
…we, We…we…. We, are beings of a greater, damned plain of existence…for times longer than your own, we have foraged in the endless sea of Magical Energies, siphoning Mana from the Astral Plains, locked in these eternal, etheral shells, cursed to seek those we deem…..strange.
–
He blinked, still terribly worried; why would they come for him, if they were so Godly all-knowing? …what made him strange? "B-but why are you-"
–
*One of the strange beings, a few metres from him one second, was right before him the next* YOU FOOL! *Their voices, collectively, bellowed out to the boy, causing him to groan out in annoyed pain* It's because of YOU that we are here! Because of you! Because of youuu…. YOU are the anomaly here! YOU, being from a failed existence!!
–
Gods was he confused. Worried, scared, but…more confused. Didn't stop him from having such a fast pace of breath. Were they to kill him?? Were they to banish him?? But to where? He had no idea what they were on about!!
–
YOU do not originate from this plane…this reality…this EXISTENCE…Because of YOU, there is VOID, much void- LOTS of void… With VOID, there is WARNING…
–
"Void?! W-what do you….what are you talking about?!" He shouted to the beings, hating how much this confused his mind. He wanted to know what they meant, why they said such things.
–
YOU, Insolent being that shuns Magic! BEING that plagues Mana! Sun that defines LAW! Shuns it- Yessss, shunnnssss iiiit.
You draw great misfortune to your self, your life, your EXISTENCE! You should NOT EXIST!
–
"….w-what?" That last line got him to think, got him…into a greater confusion than before. The kind of confusion, which gets to even the highest of minds. The kind of statement, that challenges things such as, the theory of life. What did that mean… "H-how can I not exist? …t-that makes no sense!"
–
*One of the beings would seem to form something, instantaneously, from the palm of their skeletal hand. It was dark, but bright also; a strange, deep purple shade. The shade of Mana, in its purest form. They formed it into a sharp, deadly looking crystal, and let it simply fly out at the boy. He went to shield his face, bracing for something, anything to happen. Then, he opened his eyes…..- There was something that happened as it approached his form. He watched it, confused, as the Shard of Mana simply…"dissipated" into thin-air, or void in this sense. Like his body rejected Mana openly….and that's when it hit him. That's what they were on about. That's the link to their motives. It was him. It was where he came from, where he walked, talked, ate, moved, lived, breathed….it was his energy. His entire being, rejected Mana. Openly, outwardly, and on an emotional level…he figured those out throughout his life, but it never dawned on him, how greater scale it actually was. The poor boy couldn't comprehend, that such a being could not exist in this realm of Magic, especially, when their home realm has been erased from existence*
–
It is because of YOU that we come here. That we warn you, damn you, curse you! Curse your existence! YOU are not safe in this life, Kaler Eland. NOT SAFE! CURSE YOU! CUUUURRRSE YOUUUU- CURSE YOUUU- CURSE YOU!
YOU! CUUUURRRSE YOUUUU- CURSE YOUUU- CURSE YOU!
YOU! CUUUURRRSE YOUUUU- CURSE YOUUU- CURSE YOU!
YOU! CUUUURRRSE YOUUUU- CURSE YOUUU- CURSE YOU!
–
The voices…everywhere….his heart…his soul….his mind…his entire body riddled with their screams, their cries, their…damnations. They condemned the boy, beat him, thwarted him, damned him with their voices, so coarse, so irritating, so chilling right down to the bone. Kaler found himself failing, trying to remain strong, but failing all too well, dropping to his knees, holding his head in his hands, trying to make the voices go away. "N-no…..no…..p-please…! L-Leave me alone…!" He began to try raising his voice, gradually hoping to beat back the shrill cries of the ancient beings. Finally, something felt…different. His back arched, head looked up to the tiny point of reality still looming above, and…he exploded. He rang out, in a great pit of agonising confusion, pain, torment, releasing a surging well of emotions, into one, hyper burst of energy. Golden glows rang out and incapacitated the 3 beings, as did it the void, growing, not stopping, purging the Mana from the area….he wanted to stop…someone…please…end it-
–
He woke up, suddenly, leaning up in a cold sweat. The noise, the screams, the void….it was all gone. Or…it never existed. Simply put, there he was, sitting up in the clearing of the very same Forest he walked through earlier…or he thought he had been. A few birds took off from the once dormant heat-pocket, a doe or two scattering into the undergrowth, not to be seen again.
–
The boy watched his hand, sat up with knees hugged to his body, attempting to contemplate and form together…exactly what on Earth happened back there. In the hand, emerged a swirling pattern, of a crisp golden glow. Particles ran out across his fingertips, flowing into a swirling ball of dust-like gold, before the whole thing collapsed on itself and 'ignited', creating what looked like, a small Sun. Said Sun, too, held a strange 'void' to it, like he seemed to, at least, to Mana-based beings it seemed. "A-am I really…not meant to exist…? W-why though…c-can't a boy just live…e-even if his very being…shuns Magic…?" That he had asked himself before, but never had he imagined, it would be this strange. Nor could he ever understand, at least not yet, how truly universe-spanning such an issue would be, potentially. He wanted not to think about it, not to reel on it, but…he knew that he would….he needed comfort, somewhere to go, someone to help his stress. So, he took off, blasting into the skies above, but not with enthusiasm, rather…well, it was just confusion.
–
Though up above, down below, this way and that way, to every corner of the Magical Realm, Hellifyno, and the Galaxies beyond, something may very well have peaked the interest of the Ancients, the Gods, the Primordials, all those assotiated with Magic, that could see into the higher respect of things, that most could not. Those who could see a greater field of view, spanning the cosmos. Those who could see, the void, the wound, the 'nothingness' in the great field of Mana. Where some should be, there was none. Where interest didn't want to be taken to, there was more. Where indeed, nothing should be, there was something.
–
And that something….was  
YOU
-fin-
==============================
(Note, this is my first attempt at a "story" sort of thing, so hopefully, it doesn't seem too cringy or bad. If it does, then…least I tried xD)